Fear is all in a day's work
Fear on Film: A History of Horrors Through the Lens
This year's YMCA haunt was our biggest yet, paying homage to the entire history of horror cinema from silent era German classics to the twisted visions of the 21st century. Along the way, we visited the golden age of Universal monsters, sci-fi horrors of the 1950s, Hitchcock's suspense masterpieces, zombie classics, cannibalistic chainsaw families, slashers, and more.
Rumor has it it was our best attended Halloween at the Y yet, and dare I say it was our best haunt ever! Many thanks go to LexisNexis for funding and to a terrific batch of volunteers without whom it would literally have been impossible to do what we did.

Oh, what we did? Make little kids cry and grown men run for the door! That's what we did... Muwhahahahahahah!
Here are some candids shot right before we opened and some higher quality production and event shots by our real photographer.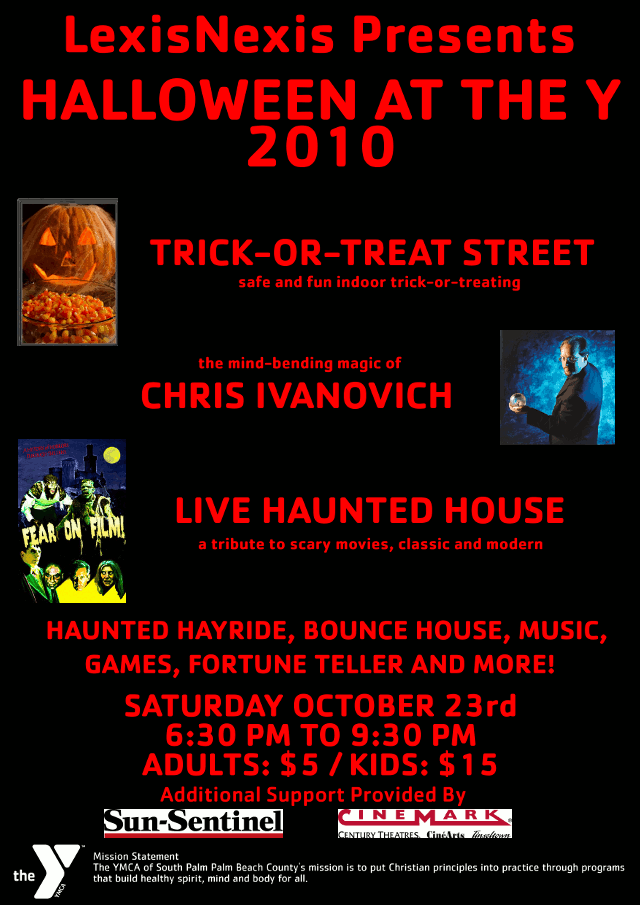 Cast and Crew
Amanda Abbruzzese
Melissa Abbruzzese
Austin Aubrey
Karin Avrahami
Jennifer Bariletti
Anthony Borchers
Christina Breza
Victorine Brown
Dave Buchler
Randy Burling
Tyler Cook
Mandy Corbett
Emily DeFabia
Jim DeFabia
Francesca Dumas
Junior Dumas
Lou Gehrig
Robert Gerdts
Kaitlyn Hanson
Shawn Hayden
Julie Kalpakjian
Samantha Kirk
Terry Koch
Courtney Lacey
Kate Landwehr
Crysta Mendez
Rafi Otten
Greg Panagiotatos
Emma Paschke
James Rodriguez
Jean Sowerby
John Sowerby
Paige Stegeman
Monica Taylor
Gregory West
Special thanks to:
Patty Costopoulos, Susan Wolff, Cindy Grassi, Chris Sapp, Heidi Weisman, and Martha Blandon of the Peter Blum Family YMCA of Boca Raton for supporting our vision, no matter how insane.

Kathleen McDonald and Christina Heintz of LexisLexis for giving us a real budget and a great gang of volunteers.

Amy Kimberly and Larry Willhite of Palm Beach County Fire Rescue for helping keep all the horrors imaginary.

Everyone who ran screaming for making it all worthwhile.